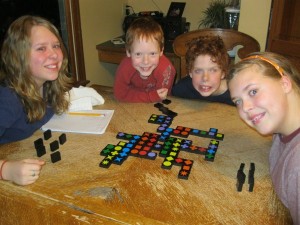 Winter is a good time to recharge and prepare for the coming outdoor projects and growing season. It is also a great time to enjoy the family indoors and spend time together playing games. We love to play games as a family after a day of work and schooling. It's a great way to get the family together and really have some fun.
But, what do games have to do with country living, you may ask? Games are a great tool for developing the soft skills needed to be successful in any activity. These soft skills are very helpful in preparing our children to manage various aspects of our country life enterprises.
The games we love are the ones that build thinking and life skills while having fun.  Put aside those mind-numbing video games. They just destroy brain cells (or as our favorite detective Hercule Poirot would say…"the little gray cells") and separate the family. Focus on games that develop maturity and togetherness.
There are many games out there that support this goal. The next couple of posts will describe a few of our favorite games. They are fun for the whole family and teach our children the thinking and other skills we're after.
Enough with the serious stuff and "big picture," here is our current Top 10 game list. Some are old time favorites and some you may not have come across before.  I bet your family will love them just as much as we do.
Qwirkle
Zooloretto
Ticket To Ride
Life on the Farm
Blokus
Boggle
Phase 10
Sequence
Rummikub
Scrabble
The next 4 posts in this series will describe our top 4 games which were uncommon games to us.  Part 2 will give specifics on Qwirkle, our current No. 1 game.
What are some of you family's favorite skill learning games?