One of the things I love the most about living in the country is getting to meet other country-loving people, especially those running small businesses. This week I had the great pleasure visiting with Irv and Kathy Huser of Environmentally Sound Products of Missouri (ESP of MO). Irv and Kathy live off the beaten path in rural Missouri and run a worm farm and plant growing operation.
It was a great treat for me to share some time with these fellow worm and plant lovers. One thing that always impresses me with country people is that they are so friendly and eager to share their experience, knowledge and wisdom with others. Irv and Kathy were true to form and I cannot express enough the great time I had with them.
Irv and Kathy started worm farming in 2003 and have grown their operation tremendously since then. First they started mainly raising worms and selling worm castings. Now their business has transitioned to mostly selling plants that are produced from the worm castings. They still have a high demand for worm castings though. They have a great compact operation and have implemented many unique ideas to make it very efficient.
Kathy is a master gardener and she and Irv give presentations at various shows and meetings. They sell their products—worm castings, worms, seedlings and transplants, books and other items—off their farm, in local country stores like Greene's County Store and at the shows they attend. If you ever get a chance to meet Irv and Kathy or buy any of their products, I highly recommend you do. I believe whole-heartedly in supporting local small business as much as possible. It's what made America great.
Below I want share some of the pictures and great tips I learned from them on growing worms and plants.
Go for free supplies as much as possible.
They get free newspaper for their bedding and shred it using a standard office shredder. Colored paper is okay as long as it is not glossy paper. The ink should rub off on your hand to show the colored paper is good to use.
They get free "waste" fruit products from a local grocery store as their worm feed. Irv used to feed the worms this fruit waste only but his worms were "skinny." Now he includes well aged horse manure and his worms are "fat" and healthy. He says horse manure is his key to "fat" worms. Other manures such as rabbit or goat manure would be good as well but definitely stay away from poultry manure.
They use 4 x 8 x 12 wood bins for their larger scale growing. No lids! They keep the lights on the worms to ensure they stay in the bedding and don't get out.
They keep the temperature of the worm bedding between 70 to 75 degrees if possible. This is the optimal temperature for best worm production.
To keep fruit flies down, they put open cups of apple cider vinegar with a little dish washing soap on top of the beds. The flies are attracted to the vinegar and die in the solution. They catch hundreds this way.
They harvest the casting after four months in the bed. Mostly all the newspaper will be gone (i.e., eaten by the worms) and the "bedding" will be very dark and full of castings.

They harvest the worms and castings through a ¼ mesh first then again through a 1/8 mesh to get the fine castings. The big chunks from the harvesting process can go straight into the garden as high nutrient compost. The worm material should be somewhat dry when harvesting so it doesn't clump up and you can get good fine castings.
When using the castings for planting, they use 10% casting in their germination mix for seed germination. If you use more, you'll get "leggy" seedlings because of its high potency. The plants will grow too fast!
When transferring their seedlings to larger containers, they use 30% castings in their mix. This produces lush, healthy transplants. Now that's what I'm talkin' about!
Speaking of transplants, they now use small, blank transplant bags as their container. I hadn't ever seen this before. They used to use small plastic containers but their plants were not as dark green as another farmer they knew. They now use these transplant bags, which they can put a little more growing mix in, and their plants are tremendous!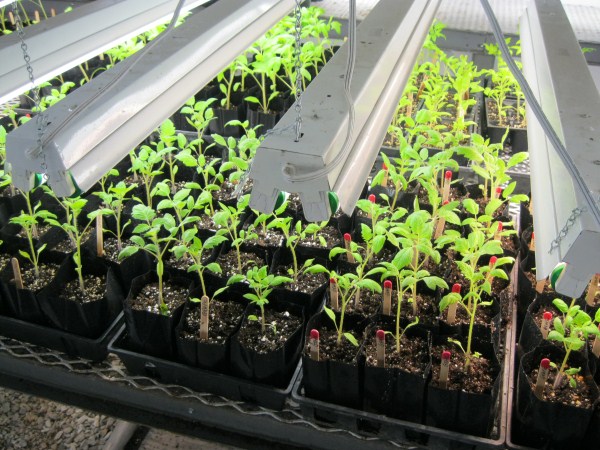 Thank you so much Irv and Kathy for your hospitality and helpful tips! I'm going to start using your ideas right away.
I welcome you to post any comments about your experience with Irv and Kathy. Also, visit their ESP of MO website and like them on Facebook "ESP of MO."