Our dear friends, the Brown's, invited our family to their mini-farm this past week to experience homemade cider-making. October is THE time for apple picking and cider making here in Missouri.  Laura did what she does best, sampled the cider and visited with friends; however, Olivia and I helped cut up apples to be used in the antique cider press.  It was a wonderful evening reminiscent of the old country days when families would gather to help each other prepare food for the winter and have great fellowship.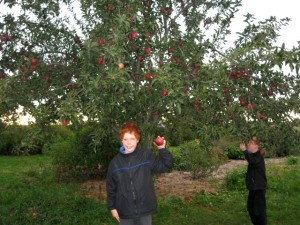 The Browns have Fuji and Red Delicious apples on their mini-farm along with many other fruit trees.  There was an abundance of apples this year! Our family arrived around 6:00 pm, but the Hunts, Collyn Brown's family, had been making cider all day.  Gideon and Theodore loved picking the apples and eating candy apples made by Mrs. Hunt.  What a great time!
Mr. Hunt had been looking for an affordable apple cider press for a long time but could not find one.  He ran across this old, screw-type apple press being used as a decoration on a lady's porch.  It is in great shape and works really well.  We found that cutting the apples in smaller chunks gets more juice out of them.  We put stem, core, seeds and all through the hopper and grinder—minus the worms!
The old press works by cranking the grinder handle as the apples are poured through the hopper.  The ground apple chunks fall into the slotted wooden basket and then are pressed down by the screw-type plunger.  Juice seeps out the bottom of the basket into a flat copper funnel and into a waiting bucket.  Cheesecloth is used to then strain out all the remaining pulp.  Voila, homemade apple cider!
Cider making with family and friends is a fun and valuable country skill.  Definitely worth trying if you get the opportunity.
Have you ever made apple cider using an apple press?  Do you have any tips to share?