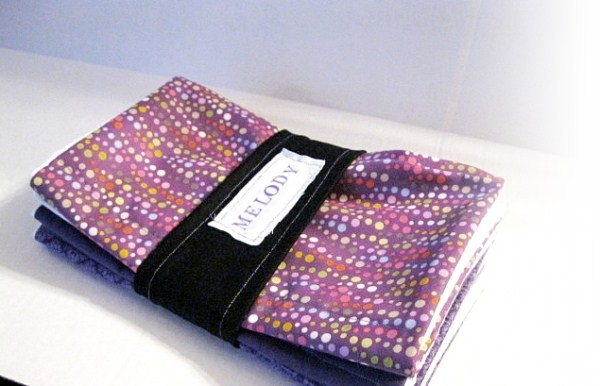 A friend of mine recently had a baby girl. For her shower, I wanted to give her something unique and pretty, yet handy for everyday use. I found instructions on the Internet to make personalized burp clothes and I just had to try them out! This is my version.
Before I tell y'all how to make these cute little rags, I want to say something to all you expert seamstresses out there who might be reading this. I am a beginner at sewing, so the way I made these might not be the "proper" way, but it worked! And, I had fun making them.
Things you'll need:
Cloth diapers (you can find them at Walmart)
A fat quarter of any kind of pretty cotton material
A fat quarter of plain white or off-white cotton material
Sewing machine
Scissors
Pins
Step 1
Take one cloth diaper and fold it in half, and iron flat (this will be the back of the burp rag). Cut cloth diaper into a 10" x 18" rectangle. Cut the crease where it is folded to make two pieces, but keep pieces on top of each other.  Iron and set aside. Repeat this process using the plain white cotton material.
Step 2
Cut a 10" x 18" rectangle out of the pretty cotton material. Set aside.
Step 3
Layer the three rectangles as follows.  The bottom layer is the cloth diaper. Next, place the pretty material on top of the cloth diaper with the right side facing the cloth diaper. Finally, place the white cotton material on the very top then pin.  Below is a picture of how it should look.
Step 4
Sew along the edge on three sides on the cloth. Leave one end open.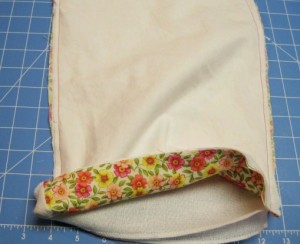 Step 5
Trim the corners and turn right side out then iron flat. Pin back the edges and sew the top.
Step 6
Sew two lines on the burp cloth to divide into three even parts. This makes it easier to fold. Iron flat and trim threads. You're finished!