Have you ever used a steam juicer?  I never even heard of this handy kitchen tool until our friends told us how helpful the juicer can be during canning season.   The steam juicer is so easy to use and is a big time-saver when trying to preserve berry juice to make jelly.
Mom and I set aside an afternoon this week to juice our beautiful blackberries.  Our juicer cost around $80 and is stainless steel.  There are less expensive aluminum types also.  I bought the 4 quart juice size.  The juicer has 5 parts as shown below.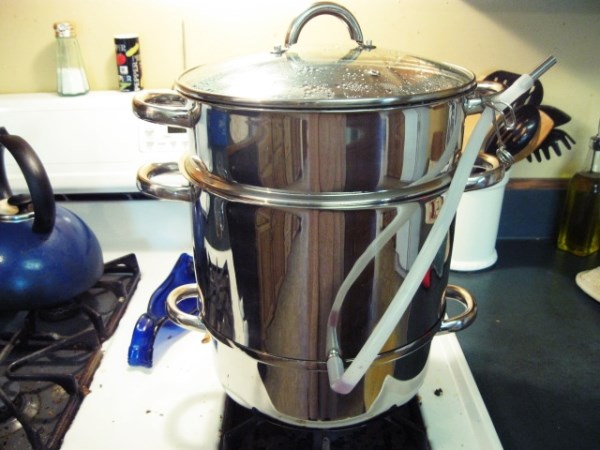 It is easy making juice with the steam juicer.  We fill the water kettle with 2 quarts of water and turn the stove on high to bring the water to boil.  Then we place the juice kettle on top.  Next, we pour our washed berries in the fruit basket and put the lid on.  The hose attaches to the juice kettle and has a pincher to let the juice stop or flow when needed.  Finally, we turn the heat to medium and let it boil until all the juice is extracted from the berries.  We keep an eye on the water kettle, making sure it does not run dry.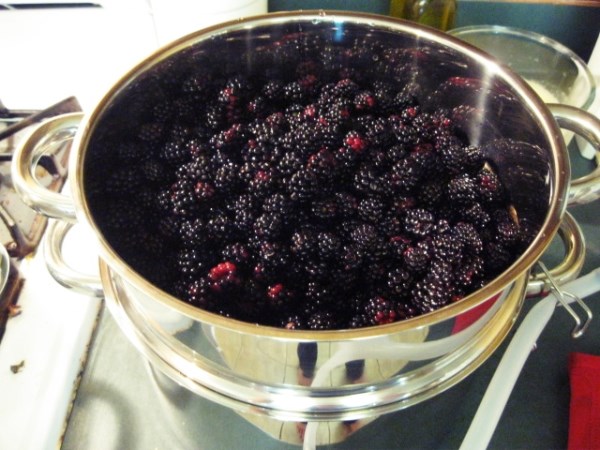 After a few hours, we have 4 quarts of rich dark blackberry juice.  At this point, we sterilize our jars and lids and heat the jars in the oven.  Be careful when you place the hose in the quart jar.  Be sure and use oven mitts or hot pads.  The jars are hot and the juice is hot.  Lift the pincher off the hose and let the juice flow until the proper head space is reached in the jar.  Put your lid and band on and wait for the wonderful popping noise of a sealed jar.  We intend to use our juice to make jelly, and since the jars are sealed and preserved, we are in no hurry to use our juice.
The berries are a medium pink when all the juice has been extracted.  We gave them to our chickens for a sweet treat!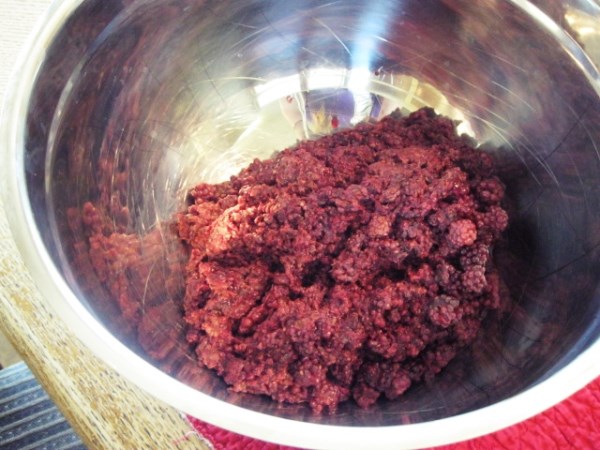 Have you ever used a  steam juicer before?  We'd love to hear from you.