This holiday season my friends and I had a baking day at my house to bake Christmas goodies for our choir directors.  One of my good friends showed me how to make delicious Buckeyes. They are so extremely easy and fun to make that I had to share it with y'all!
Here is the recipe.
Ingredients:
1 1/2 cups peanut butter
1 cup butter softened
1/2 teaspoon vanilla
4 cups powdered sugar
2 bags semi sweet chocolate chips
Directions:
1.  Cover a big cookie sheet with wax paper and set aside. Put chocolate chips in crock-pot and melt on low. Add a little oil if too thick.
2.  Mix the rest of the ingredients with your hands or a spoon in a large bowl.
3.  Roll into balls, put on cookie sheet and freeze till firm.
4.  Dip balls in the melted chocolate with a fork. Leave a little circle on top to make the buckeye look. Smooth over fork hole with your fingers.
5.  Freeze again.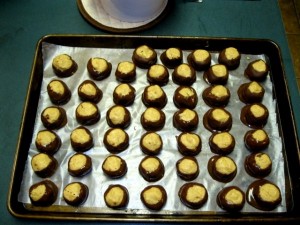 They are ready to eat!!! You need to store them in the freezer because they melt very fast. My mom just loves them. Enjoy!