I don't know if you have noticed how expensive hair products are getting, but I have! I wanted to find out if there was a cheaper way to wash my hair. I looked up homemade shampoo recipes on the Internet and tried out a few.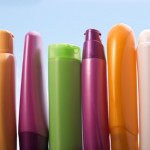 I also found out how ordinary shampoo or conditioner you buy from the store is very harmful to your hair.  All the chemicals and ingredients strip your hair of its natural oils.
I combined other peoples' recipes and came up with my own kind of shampoo and conditioner. The results may take a week or two, but your hair will adjust and become much more healthier.
Shampoo:
Dissolve 1 Tablespoon of baking soda in 1 cup of warm water in a jar.
Conditioner:
Stir 1/2 cup apple cider vinegar with 1 cup warm water in a jar.
Wet your hair and scrub in the shampoo. Rinse. Scrub in conditioner. Rinse again really well to get rid of the apple cider vinegar smell.
Here is a link to a great site full of recipes for making store bought things all on your own.
What homemade recipes for beauty care products have you used?