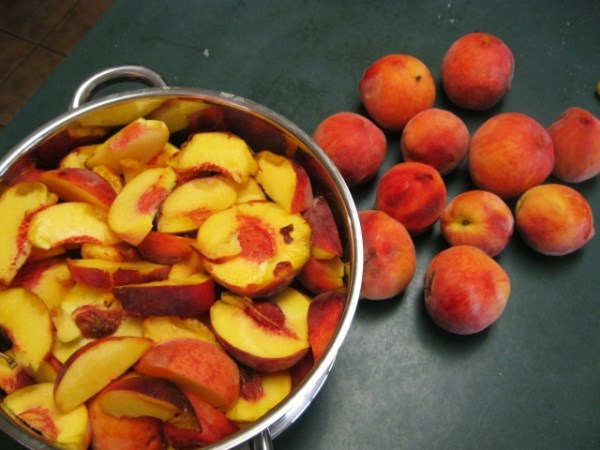 The Calhoun County peaches are here!  Our family enjoys peaches as a sweet summer treat.  There are a few peach sellers at the Farmer's Market, so it was quite easy to pick up a half of a bushel and bring them home to be used for smoothies, jelly and cobblers. Yum Yum.
Larry and I eat a fruit smoothie almost every morning.  Frozen peaches from the local grocery store are quite pricey.  Making your own frozen peaches for smoothies is easy and much tastier.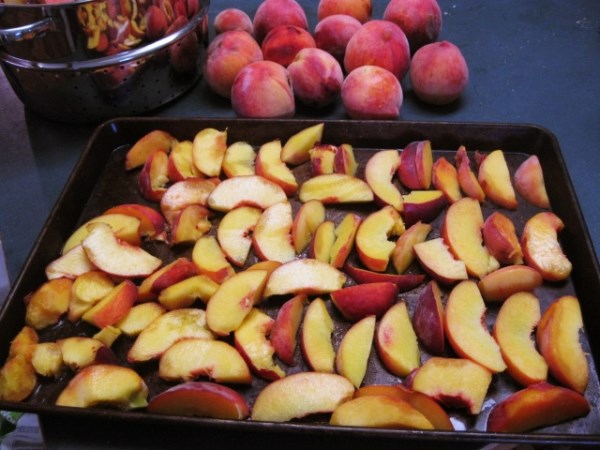 I washed and sliced 20 or so peaches.  I dipped each peach slice in lemon juice, to prevent browning, and placed them on a cookie sheet.  Freeze the peaches for 2 hours or until fairly hard.  Freezing them on the cookie sheet will keep them from compacting in a big frozen heap.  Place them in a gallon bag and stick in your freezer, ready for your next smoothie.
Strawberry Peach Smoothie
1 Cup water
1 Cup milk (we use coconut milk or almond milk)
5-7 strawberries
4-5 sliced peaches
1 scoop of chia seeds
Blend all ingredients together and enjoy!
Do you have any tasty smoothie recipies?