My dad loves cake doughnuts. So I was really excited to learn how to make them. Give one of these to your dad or brother after they have been working all day and they'll love you forever!
Ingredients
Canola oil
2 eggs, at room temperature
1/4 cup of butter
1 cup sugar
1 can evaporated milk
2 teaspoons vanilla
4 cups of unbleached all-purpose flour, plus more as needed
4 teaspoons baking powder
1 1/2 teaspoons ground nutmeg
1 teaspoon fine salt
For glaze (optional): Combine 2 cups of powdered sugar with 1 teaspoon of vanilla and 6 tablespoons of milk.
Directions
Pour enough oil into pot to cover about one-third of the way up. Heat on low.
Melt the butter. In an electric mixer beat the sugar and butter together on medium speed until combined. Add eggs, one at a time, beating well after each egg. Add the milk and vanilla, a continue beating for 2 minutes.
Meanwhile, sift the flour, baking powder, nutmeg and salt in a bowl.
Switch the mixers' speed to low, then add the flour mixture one spoonful at a time. ( If the dough is really sticky, add more sifted flour a little at a time until smooth.) Pour dough onto a lightly floured surface.
Nead the dough a few times just to make a ball. Roll out with floured rolling pin. Roll out dough 1/2 inch thick. Cut out doughnuts with doughnut cutter (or with a big glass and little glass in the middle.)
Plop doughnut into oil (be careful, very hot!) and flip when the doughnut rises to the top of the oil. Turn the heat up if the doughnut take a while to rise to the surface. Turn the heat down if the doughnut gets brown and rises a right after it hits the oil. keep flipping till golden brown on both sides, remove and put on paper towels to cool.
Dip doughnuts in glaze then serve. Enjoy!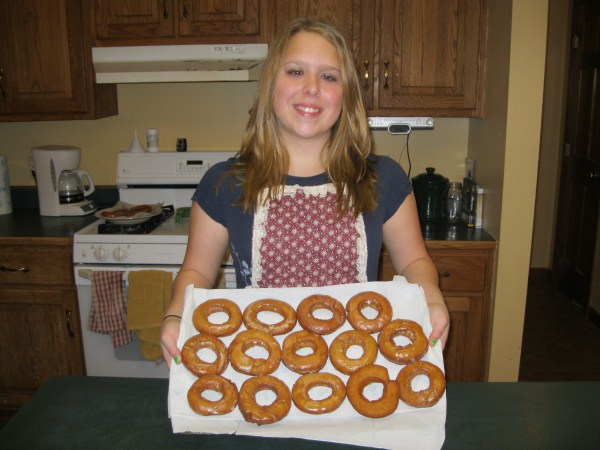 What's your favorite homemade doughnut recipe?