One of my favorite drinks when I was younger was the Orange Julius.  This weekend my parents gave us a whole basket of fresh oranges for Christmas and we decide to make homemade Orange Julius with them.  It was a great treat and the first Orange Julius experience our kids have ever had.  They loved it!
A typical recipe can be not too healthy.  Plus we have milk allergies in our family.  So we made a few modifications to fit our family better.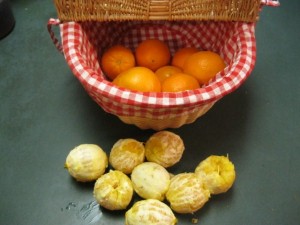 Here's the recipe we used:
6 ounces frozen orange juice concentrate (we bought a 12 ounce can and cut the contents in half)
3/4 cup fresh juiced orange juice (this is the healthy part we added)
1 cup water
1 cup coconut milk (you can use regular milk but we had to adjust for the allergies)
1/4 cup sugar plus a little more (we would have used Sucanat instead but we ran out; it would have been healthier)
1 teaspoon vanilla extract (our kids liked a little bit more vanilla added)
9 – 10 ice cubes
Directions:
Put all ingredients in a blender except the ice cubes and start blending.  Add the ice cubes one at a time until you have the wonderful frothy concoction.  Pour in a glass and enjoy!
One secret ingredient our kids added that topped it off for them was a few squirts of whipped cream on top.  What great fun it was.
Have you made an Orange Julius?  What was your recipe?