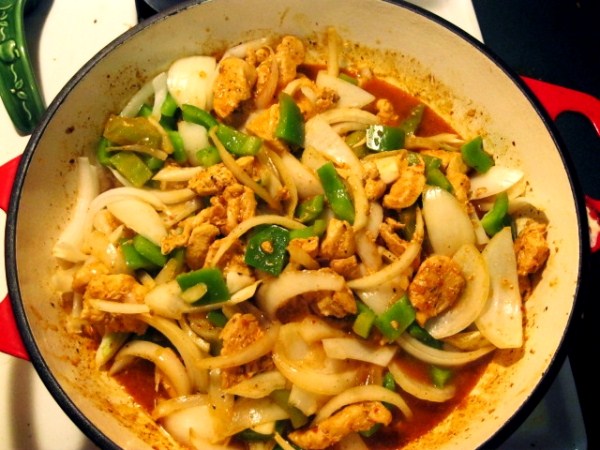 I could eat Mexican, spicy food almost every night.  The challenge is finding a way to make it gluten free for Larry and me. This chicken skillet dish with spicy bean rice works really well.
Ingredients:
3 pounds boneless, skinless chicken breast cut in small chunks
2 green peppers sliced
2 onions sliced
1 tsp Southwest Chipotle seasoning
1 bottle of Lawry's Santa FeChile marinade/sauce
Toss chicken in Southwest seasoning and sauté in skillet on medium high for 15 minutes or until done.  Pour bottle of Lawry's sauce over chicken and simmer on low.  We like our peppers and onions a little crunchy, so about 5 minutes before serving, toss them in.  Serve with rice and a garden salad.  This serves 8 with a little left over for hubby's lunch.
I spice up plain white or brown rice by adding a can of black beans (drained) along with a can of Ro-Tel tomatoes.  Some of our family likes to mix salsa, the rice mixture, and skillet chicken altogether for a yummy spicy dinner.
What Mexican dishes are a favorite in your house?