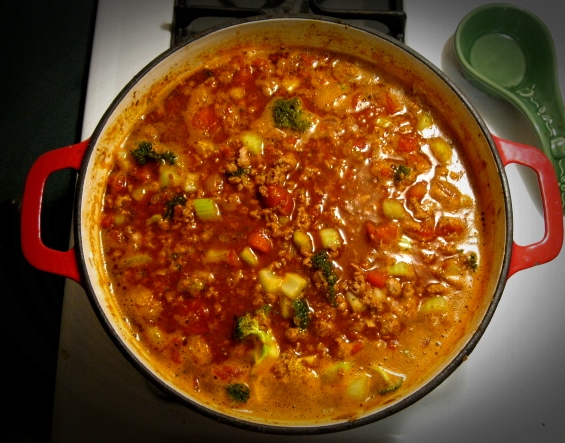 Our family is trying to add more anti-inflammatory foods to our diet.  Beans, unless you soak them, are quite inflammatory to the digestive system.  When you think of chili, kidney beans are at the top of the list for a thick chunky chili.  So how do you make a chunky chili without beans?  My friend Rachel gave me this tip—use lots of diced chili ready tomatoes and several vegetables.  I whipped up a new bean-less chili dish for our family.  I warn you, we like things really spicy, so you may want to decrease the chili powder to suit your taste.
Ingredients:
3 pounds turkey burger
4 cans chili ready tomatoes
32 oz. beef broth
1 red onion
2 C celery
2 small heads of broccoli-chopped
4-6 Tbs chili powder
1tsp black pepper
2 tsp salt
Cook turkey burger with diced red onion.  Add cans of chili and beef broth.  Start sprinkling spices into this mixture. Make it as spicy or mild as your family likes. Add broccoli in the last 10 minutes of cooking.  Bring to a high simmer and let the flavors mix for at least 20 minutes.  Enjoy!
Do you have an anti-inflammatory recipe?